United Nations Service Medal
United Nations Service Medal is awarded to U.S. armed for personnel who are participants in designated U.N. missions or
actions.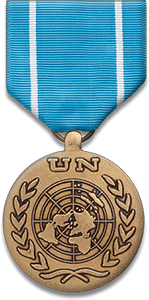 Authorization
This medal was authorized by the United Nations General Assembly on Dec. 12, 1950. The Department of Defense authorized it for the United States armed forces on Nov. 27, 1951.
Eligibility Criteria
United Nations operations for which members of the U.S. armed forces may accept and wear the United Nations Medal
United Nations Truce Supervisory Organization in Palestine Jun 1948 – TBA
United Nations Military Observer Group in India and Pakistan Jan 1949 – TBA
United Nations Observation Group in Lebanon Jun 1958 – Dec 1958
United Nations Security Forces, Hollandia (UNSFH) Dates Unknown
United Nations Iraq/Kuwait Observation Group Apr 1991 – TBA
United Nations Mission for the Referendum in Western Sahara May 1991 – TBA
United Nations Advance Mission in Cambodia Oct 1991 – Mar 1992
United Nations Transitional Authority in Cambodia Feb 1992 – TBA
United Nations Protection Force in Yugoslavia Feb 1992 – TBA
United Nations Mission in Haiti Sep 23, 1994 – TBA
United Nations Opn Somalia (include U.S. Quick Reaction Force) Apr 24 1992 – TBA
Order of Precedence
United Nations Medal is worn after Philippine Independence Medal and before Nato Medal.
Subsequent Awards
Prior to 13 October 1995, all US Military personnel wore the blue and white United Nations Ribbon (UNTSO) regardless of the ribbon awarded. On 13 October 1995, the Assistant Secretary of Defense (Personnel and Readiness) approved a change to the wear policy of the United Nations Medal. Effective on that date, personnel who are awarded the United Nations Medal may wear the first medal and ribbon for which they qualify. Subsequent awards of the United Nations Medal for service in a different mission will be denoted by a bronze service star. Not more than one ribbon may be worn at any time.
Authorized Devices
Bronze service stars

United Nations Ribbon

Korea Service United Nations Medal
Awarded to members of the Armed Forces of the United States who participated in the U.N. action in Korea and
who are also eligible for the Korean Service Medal.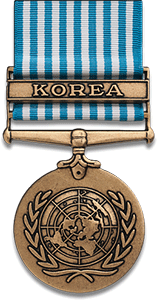 Eligibility Criteria
Service on behalf of the United Nations in Korea between 27 June 1950 and 27 July 1954.
Subsequent Awards
No subsequent Awards
Authorized Devices
No authorized devices
Korea Service United Nations Ribbon